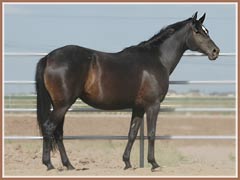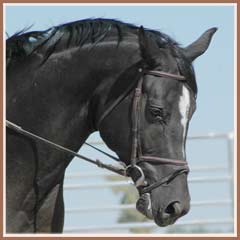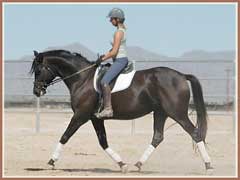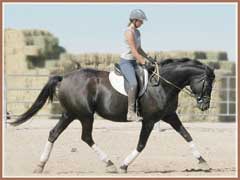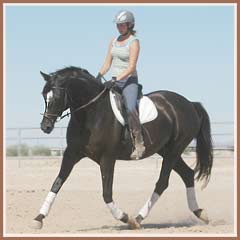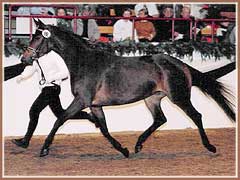 Cara Bella
1999 Trakehner mare
Sired by Buddenbrock, out of Coeur Neuf by E.H. Mackensen
---
We are very fortunate to include Cara Bella on our list of select Trakehner broodmares. She was imported from Germany when she was 3 after receiving a total of 54 at her stud book inspection (8,8,7/8,7.5,7.5/8), making her a Verband Premium candidate.
Shortly after arriving at Sovereign Farm, Cara Bella was bred to the Neumünster Champion Freudenfest. Despite her growing belly, Cara Bella was worked under saddle during the fall of 2005 - where she proved to be a sane and sensible riding horse. She learns quickly and moves beautifully under saddle!
On April 6, 2006 Cara Bella delivered a beautiful dark bay filly, Calais. The new filly is strong and substantial with great conformation, including a lovely head, high-set neck, medium length back and strong hindquarters. In 2007, we welcomed Cara Bella's Tolstoi son Colstoi! Cara Bella was bred back to Tolstoi for 2008 and on April 28 she delivered an absolutely stunning filly!
The following bloodline information was provided by Dr. M Engelhardt for Trakehners International, LLC.
Cara Bella's sire Buddenbrock was awarded the Elite title in 2007 due to the success of his offspring in competition and overall conformational quality. Buddenbrock was approved in 1996 and since then has produced approved sons almost every year. His offspring now compete at Grand Prix level in dressage (e.g. King Arthur TSF, Hinnerck TSF), have themselves produced exceptional new stallions (son Connery sired the two Res Champions Imperio and Editorial), and are among the highest inspected and valued mares of the entire breed. The five full siblings by Buddenbrock out of the elite mare Insterfee are probably a nice example of the quality this stallion can produce with the right match: Champion In Flagranti, approved In Petto, and the champion mares and under saddle winners SPS+PS In Zukunft, In Farbe and In Vita. Buddenbrock's sire EH Sixtus was a FEI level show jumper and is the most important son of the great Habicht in breeding. Over 15 sons have been approved to this day, worldwide.
Budenbrock's dam is the Elite mare Ballerina, who also produced the National Champion mare and Bundeschampionat finalist Bandera, the premium mare Batida (dam of the premium stallion Blitz & Donner), as well as the premium mares Biskaja and Borgia. The mare family behind this success story also comes from the main stud Trakehnen via the chestnut mare Blitzrot (family designation T6A). Among her influential descendants are EH Benz, the State Stud stallion Bernstein, Blickfang, Blitz, Baluster, Belsazar, Bellheim, Blitzwind and the impeccable reforming stallion of Dutch dressage breeding, Doruto!
Cara Bella's dam line is a wonderful addition to her prominent sire line. Dam Coeur Neuf is a full sister to the elite mare Capri V, better known as dam of the major sire EH Caprimond! A full sibling to Cara Bella, Chianti, was selected as a stallion candidate for NMS, and the family also extends to the premium mares Caprice V and Capriola (dam of the approved Carlton). Coeur-As founded her own branch of the larger Cajenne family, which also stands for the breed's best jumper producer ever, Carajan, the Komet-son Cordial, Chabrol, Cortez, the Westfalian premium stallion Fuerto, the versatile premium stallion Chateauneuf (dressage and show jumping at advanced level), and the young Chardonne.
The succession of the stallions EH Mackensen, Herzbube and Loretto is truly icing on the cake. EH Mackensen was a stamping sire for the Trakehner and Rhineland breeds after WWII and sired numerous outstanding performance horses in all disciplines (e.g. CCI*** eventer Please Me; Grand Prix dressage horses like Rondo Classico, advanced show jumper like Velasquez, and influential stallions such as EH Charly Chaplin, Samurai II, or the Rhinelander Mephistopheles). Herzbube sired international dressage horses, e.g. the approved EH Heuriger (Team Silver; individual 5th at the World Games in Le Hague 1994). Herzbube is also probably one of the most important mare producers in the breed, with such daughters as e.g. ESt Tilsit III (dam of EH Tenor, EH Tuareg, EH Tivano, ESt Tänzerin – herself dam of Tambour, Thalys and Travell or Tanzstunde, dam of the 2007 approved Tanzpartner). And finally Loretto – this son of the TB stallion Pindar xx sired Hertilas, known well as the sire of the major sire Ibikus.
The following is a list of Cara Bella's offspring born here at Sovereign Farm:
•Calais: 2006 filly by Freudenfest
•Colstoi: 2007 colt by Tolstoi
•Carmine: 2008 filly by Tolstoi
•Cazador: 2010 colt by Tradition *Pb*
Move your mouse over the green names in the pedigree below for more information:
Buddenbrock

E.H. Sixtus

E. St. Ballerina XXV

Diamant

E. & Pr. St. Blinklicht

Coeur Neuf

E.H. Mackensen

Pr. St. Coeur-As

The mares at Sovereign Farm...

Reference mares...