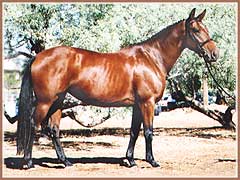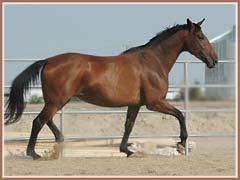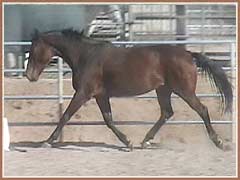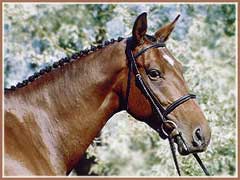 Victree
1998 Trakehner mare
Bred by Cynthia Luellen
Sired by Kaspareit, out of Victoria by Pregelstrand
---
Victree ("Tory") was purchased as a pair with her dam Victoria, when she was 6 months old. She has become a beautiful mare, my favorite riding horse and a wonderful producer.
In April 2002 Tory delivered the substantial filly Voila by the Trakehner stallion Enrico Caruso *Ps*E*. Shortly after her foal was weaned, Tory went into training and within one year had entered her first show. Within a few months, she earned such high scores in Training Level dressage that she was ranked third in the 2003 ATA Futurity. Prior to being bred to Kostolany, Tory had shown in First Level and was schooling Second Level. She delivered another athletic filly, Valkyree, on April 16, 2005.
Tory foaled a leggy, athletic colt by the Grand Prix dressage stallion Oskar in April 2007. Vigo is another good moving offpsring with a quiet and sensible temperament. He will excel in the dressage ring with his lofty gaits.
The following is a complete list of Victree's offspring:
•Voila: 2002 mare by Enrico Caruso
•Valkyree: 2005 mare by Kostolany
•Vigo: 2007 gelding by Oskar II
Move your mouse over the green names in the pedigree below for more information:
Kaspareit

Victoria

Pregelstrand *E*

Morgenglanz *E*

Pelerissa vom Schimmelhof

Garbenbinder

Perlenschnur vom Schimmelhof

Virginia

The mares at Sovereign Farm...

Reference mares...