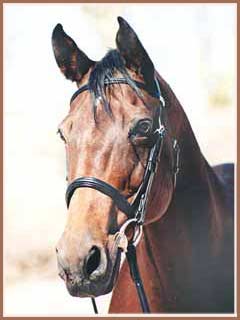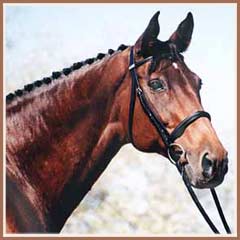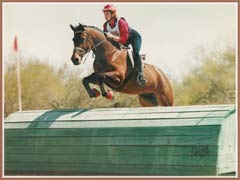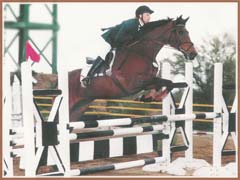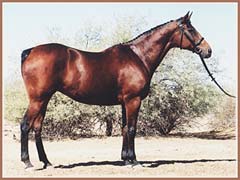 Algebraica xx
PSB Thoroughbred mare
August 29, 1986 - August 15, 2006
Bred by Haras El Malacate
Sired by Hard Cash xx, out of Alabanza xx by Sheet Anchor xx
---
Algebraica was a beautiful Thoroughbred mare that was born and raised in Argentina. She started her career as a race horse and raced in several countries until roughly 6 years of age, when she was sold to FL. After a short career as a hunter/jumper, Algebraica was shipped to Arizona where she became a successful Eventing partner for her rider and later owner, Laurel Morris. The pair competed through Preliminary level before Algebraica was retired in 2002, at the age of 16.
Still sound at 20 years of age, Algebraica had her last foal, an outstanding bay filly, Amara, by the Grand Prix Trakehner stallion Leonidas *Pg* in late March 2006. Her only other foal was born in 2003, an athletic gelding by Paramoure. Bred and owned by Laurel Morris, Perrier Jouet will follow in his dam's hoofprints and become Laurel's next telented mount.
Move your mouse over the green names in the pedigree below for more information:
Hard Cash xx

Hard Fighter xx

Habitat xx

Sir Gaylord xx

Little Hut xx

Pugnacity xx

Pampered King xx

Ballynulta xx

Milonguera Bluff xx

Alabanza xx

Sheet Anchor xx

Ambiorix xx

Tourbillon xx

Lavendula xx

Anchors Aweigh xx

Devil Diver xx

True Bearing xx

Alamosa xx

El Califa xx

Angel Gal xx

The mares at Sovereign Farm...

Reference mares...