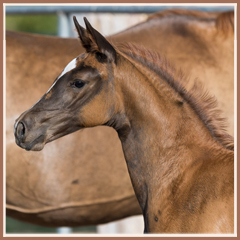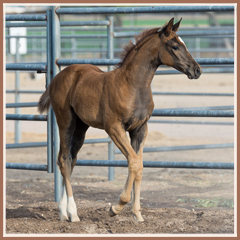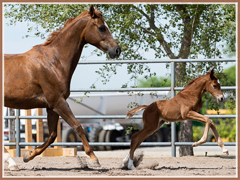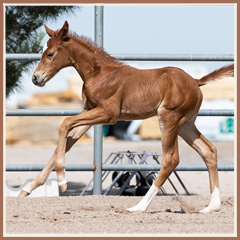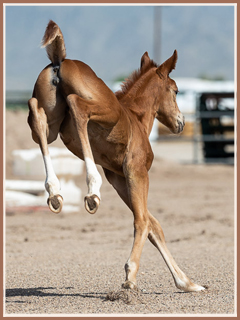 Phyre SF
2023 chestnut Trakehner filly
Bred by Sovereign Farm
Sired by Barbarossa *Pb*, out of Primrose by Tradition *Pb*
---
Phyre was foaled on April 23, 2023.
Phyre is a gorgeous package with beauty, type, movement, bravery and pizzazz. Her personality will be well-suited to eventing. She tends to run towards what other horses consider scary = good eventer. She would never make it in the wild! She is good for grooming and the farrier and a pleasure to be around. She has a wonderful personality and loves to run and jump! She has solid bloodlines filled with eventing performance horses.
Phyre's sire is the Premium Trakehner stallion Barbarossa *Pb*. Barbarossa *Pb* is an exciting up-and-coming stallion with a brilliant start to his show career. He is multi-talented for both jumping and dressage. In 2021 he was campaigned in Eventing and earned 1st place in Open Training at the Meadow Creek Park HT and 4th place in Open Training at the Texas Rose Horse Park HT. It was apparent at the horse trials that Barbie would shine in the dressage arena and in 2022 his training program changed to focus on dressage. In a short period of time, his natural athletic ability and willingness to learn enabled him to earn the scores for his Performance Bronze (*Pb*) designation in 2023. With promising scores already in PSG, we are excited to follow his progressing dressage career.
Barbarossa's sire is the influential Trakehner stallion, E.H. Buddenbrock. Buddenbrock was awarded his Elite status in 2007 and named Stallion of the Year in 2010 due to the success of his offspring in competition, as well as, the quality of their movement and conformation. E.H. Buddenbrock is approved for breeding to Trakehner, Hannoverian, Oldenburg, Westphalian and Rhineland mares as well as for all Southern German breed associations. Some of his notable offspring include the Grand Prix dressage stallions E.H. King Arthur TSF, In Flagranti TSF, and Epernay. In total, he has sired at least 11 Grand Prix Dressage horses as well as top competitors in Jumping and Eventing.
Phyre's dam, Primrose is one of the sweetest, most easy-going horses at the farm. Through no fault of her own, she was not started under saddle until she was 9, when she showed a calm willingness to learn, listen and try. Primrose's sire is the Butow son, Tradition *Pb*. Tradition *Pb* was campaigned successfully through Intermediate level in Three-Day Eventing with Holly Hepp. The pair won 1st place in Intermediate Open at the Rocking Horse Winter II Horse Trials in February 2003. After a successful season of competing at Intermediate, Tradition *Pb* was retired to the breeding shed. Although he was not heavily utilized in the breeding shed, he produced two approved stallions: Cardinali and Zaubermann. Cardinali followed in his sire's hoofprints and competed up to Intermediate in Eventing. We have had several Tradition *Pb* offspring over the years and find them to be highly trainable, eager to please individuals with good movement.
Primrose's dam, Prada Go, was imported in utero and is by the Polish Anglo-Arabian stallion Askar AA. Askar AA represented Poland in the Atlanta 1996 Olympics in Three-Day Eventing. Askar AA was approved for breeding to Trakehner, Westphalian, Rhinelander, Oldenburg and Shagya. Askar AA produced the approved Trakehner stallion Halimey Go who was successful up to the Advanced level.
Please contact me for additional information and/or any questions you might have.
Move your mouse over the green names in the pedigree below for more information:
Barbarossa *Pb*

E.H. Buddenbrock

E.H. Sixtus

Ballerina XXV

Born in a Storm

Beaute

Belladonna Lily xx

Mr Cockatoo xx

Won't Concede xx

Primrose

Tradition *Pb*

Prada Go

Askar AA

Padua Go

E.H. Maizauber

Palma Nova

Sovereign Farm Sales Horses...