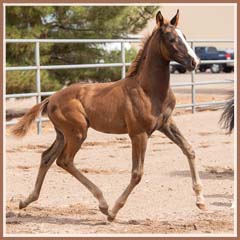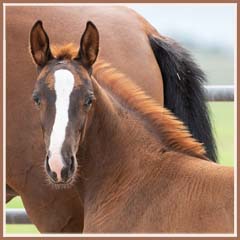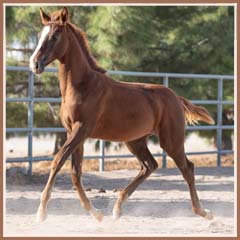 Positano SF
2021 chestnut Trakehner filly
Bred by Sovereign Farm
Sired by Lord Cosmo, out of Prada Go by Askar AA
---
Posie was born at a whopping 373 days gestation and was dysmature at birth. She wieghed around 40 lbs and was TINY! After some initial special care and plenty of time to strengthen up, Posie has matured nicely. She is an overly friendly filly with lovely movement. Posie is slated to be Addison's upcoming Pony Club mount.
Move your mouse over the green names in the pedigree below for more information:
Lord Cosmo

Cosmopolit

Peron Junior

EH Sixtus

Pallas Athene III

Carisma

Lida *E*

Enrico Caruso *Ps*E*

Lonka

Prada Go

Askar AA

Quator Charriere x

Arsena

Padua Go

E.H. Maizauber

Palma Nova

Sovereign Farm Horses...